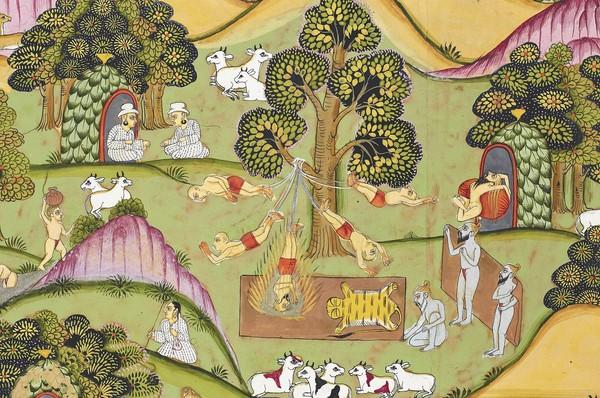 Image: The 18th century watercolor "Rama Enters the Forest of Sages"… (Asian Art Museum )
I have been practicing yoga long enough to see many styles of yoga come and go in popularity. In the late 1990's many of us were immersed in astanga vinyasa yoga and power yoga, a variation that Bryan Kest developed after practicing Patabhi Jois's astanga yoga for many years. There were many spin-offs and teachers who branched out from there and that overall branch of the yoga tree is often referred to as vinyasa flow yoga. Moving with the breath drew my mind inward while transitioning from pose to pose. I loved it! But then one day in a vinyasa workshop, I became completely bored. I lost interest, probably because I had recently discovered Iyengar Yoga with its emphasis on alignment. Learning how to support my body with props really opened it up and I was fascinated with the most minute details of where to place my attention in asana. It taught me to spread my consciousness throughout every cell of the body. Alignment based yoga held my attention for almost 15 years and exposed me to adapting the practice to make it accessible to all. Throughout that time, I also studied how to practice yoga restoratively and therapeutically to help heal issues within my own body and adapt for my students.
The last few years, after witnessing myself and many long-time yoga students experiencing issues due to hypermobility and repetitive yoga movements, I developed a strong interest in biomechanics, natural movement and incorporating more of a strength focus into my practice. At 55 years old, I feel better than ever.
Does this mean that my former yoga practices were not "good for me"? No, they brought me to where I am now. Here is a short list of what I learned by practicing different kinds of yoga:
Benefits of vinyasa flow yoga
Calms the mind by focusing on the breath

Links breath to movement

Engages muscular activity and improves cardiovascular fitness

Increases flexibility, balance and strength

Explores the joy of movement as well as holding a position
Benefits of alignment-based yoga
Spreads your attention throughout every cell of the body

Penetrates dull areas of the body and sharpens the mind

Utilizes props to teach, support and adapt

Aligns the body and improves posture

Explores the joy of stillness within a shape
Benefits of restorative and therapeutic yoga
Focuses on the individual

Adapts the practice of yoga to all shapes, sizes, ages and health issues

Teaches deep relaxation

Promotes healing
Benefits of non-traditional yoga movement modalities
Allows one to question yoga habits

Adds new ways of mindful moving to create balance in your practice, such as, strengthening techniques or somatic explorations

Keeps the mind and practice fresh for experienced students
This leads me to the "this yoga is better than that yoga" criticisms. Lately, I see a number of yoga teachers bashing on alignment based yoga in social media and blog posts. In the past, teachers were dissing the flow and glow of vinyasa yoga. There has always been some condescension toward Bikram and hot yoga. Even yoga therapy is getting flack!
Yet, if you study the history of yoga asana you will find that the forms of yoga have always changed and evolved with the needs and interests of the people practicing it. In mid-nineteenth century, yoga students were hanging from trees in a pose called "bat penance" and climbing ropes upside down while in lotus in a pose called "spider."*
*Roots of Yoga by Mark Singleton and The Hatha Yoga Project by Dr Jason Birch, Dr Mark Singleton, and Dr Jim Mallinson
The Swirl
For the last few years, I have been in what one of my MovNat teachers, Kellen Milad, calls "the swirl." The swirl is when you have a lot of knowledge but it isn't lining up and you are trying to figure things out. Sometimes it freaks you out but Kellen encouraged me to embrace it. And my long time yoga teacher, Tias Little, taught me to not grasp for answers. You have to be patient and let confusion settle so you can see your new path clearly. And now it has.
I feel liberated that now I feel free to incorporate elements from other movement modalities and evolve my yoga practice to suit my needs, which for me is more stability. I am not criticizing lineage - I learned a lot but all organized systems have limitations and you have to recognize when a method is no longer serving you. I admire those who have found a yoga style or teacher that has stood the test of time for their own personal needs. If this is you, then I encourage you to stay on course!
My yoga journey has been full of wonderful yoga teachers and movement experts. Standing on their shoulders, I am starting to see beyond my past experience and incorporate new beneficial movements into my yoga asana practice, and guess what? It can still be yoga even if you can't find the movement or shape in "traditional' yoga references. After all, it is not the shape of the yoga asana that makes it yoga, it is how you are practicing the shape that makes it yoga.
Throughout yoga's history, these three things have made something "yoga"
Attention to the breath (connection)

Focus the mind on one thing at a time (mindfulness)

Observe the inner sensations arising (awareness)
If you are practicing with connection, mindfulness and awareness, then it is yoga. The same holds true for your daily life - are you connected, mindful and aware? If so, you are living your yoga.
If you are a newer yoga student, stick with one method for a while until you gain a depth of experience. As the saying goes, you will learn more by digging a deep well, rather than a bunch of shallow ones. If you are a seasoned practitioner who has been practicing yoga for many years and have either hit a plateau or are experiencing a decline in some way, don't be afraid to let go of the "rules" and experiment and play. This is how the tradition of yoga evolves, one student at a time.